DID YOU SEE US ON TV?
---
As seen on Dragons' Den
---
Founders Adele and Rasmus Andersen our fitness app into the Den in Season 18, Ep 11. Watch from 26:30.
---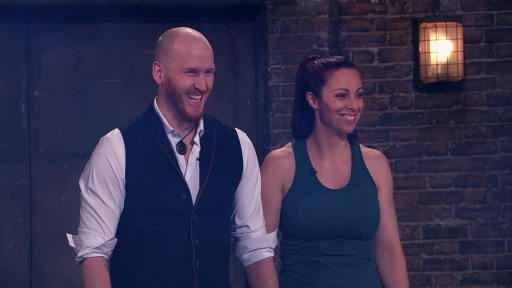 ONLY YOU CAN SAVE THE WORLD...
---
WELCOME TO THE APOCALYPSE!
---
Imaginactive presents Apocalypse Survival Training, the epic story-based fitness experience where you get to save the world one workout at a time!
---
ARE YOU APOCALYPSE READY?
---
A FULLY GUIDED WORKOUT EXPERIENCE
---
ACTION... COMEDY... DRAMA... AND EXERCISE!
---
HOW IT WORKS
---
Each episode is a fully guided workout set in an alien invasion story starring YOU as the main character.
---
EXPERT INSTRUCTION

Programmes written by experienced fitness instructors and delivered by in-world coach characters.

FULLY COMPOSED AUDIO DRAMA

Every episode has been completely designed with full character audio, soundtrack and SFX. NO EXTERNAL PLAYLIST REQUIRED!

FULL EXERCISE SUPPORT

Audio and visual guides provided and coached in-episode for every exercise, including intro and advanced options.

YOUR PLACE, YOUR PACE

SPEED episodes can be run, walked, cycled, rowed - anything goes! STRENGTH and CONTROL episodes can be done at home, gym or outdoors.
---
ONE EPIC STORY
---
THREE TYPES OF WORKOUT
---
BODYWEIGHT CIRCUITS FOR

STRENGTH

STRETCH & FLOW FOR

CONTROL

AUDIO ONLY & VIDEO

OPTIONS
---
STRENGTH
---
Bodyweight Circuits
---
APOCALYPSE SURVIVAL TRAINING REVIEWS
---
WHAT OUR USERS SAY
---
"

"Great acting, fun, charming... Never before has exercise made me laugh out loud!"
"

"I think it's fair to say that AST is the gold standard for mobile fitness apps... so much joyful storytelling and unexpected humour."
"

"A unique and entertaining way to exercise, even for people like me who spend most of the time in the gym counting down to when I can leave."
"

"Awesome, workouts are boring no longer. This app really motivates to go harder and comes with an exciting story."
WANT TO KNOW MORE?
---
JOIN THE MAILING LIST
---
Get all the latest updates and intel for apocalypse survival training and make sure you're apocalypse ready!
---